One of the strengths of being in a union is that we can draw on each other's many talents and skills. Take the time to get to know the passions and skills of members at your local. Sharing and cultivating our talents with each other can lead to some amazing creations and actions and helps give a wider range of people ways to contribute and be involved.
---
  from Leslie Bond, UFCW Local 23
Labor Day Float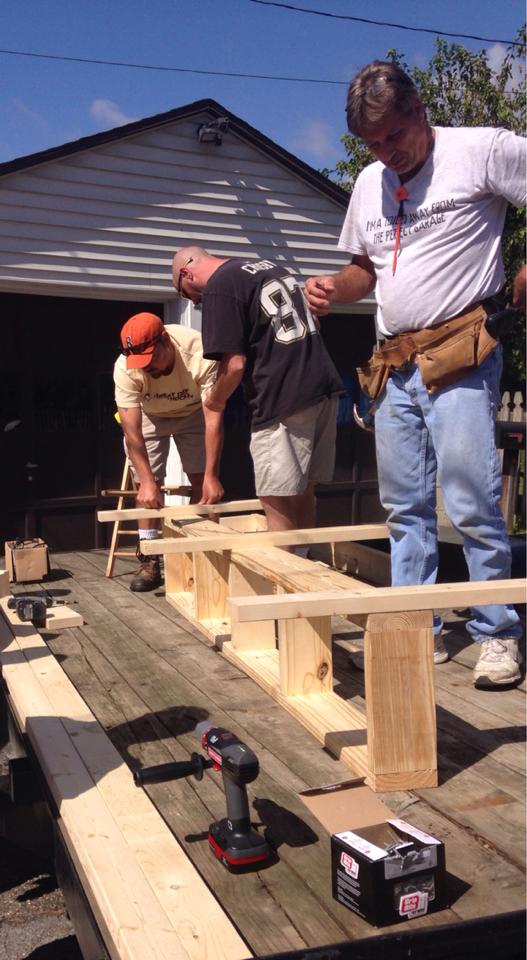 Our Labor Day float was the brainchild of one of our e-board members, Rick Ruth, who had access to a trailer.
It was in rough shape, but he fixed it all up and then he and some staff guys got together one wretchedly-hot day and built the benches, painted it and allowed me to pick out some decorations.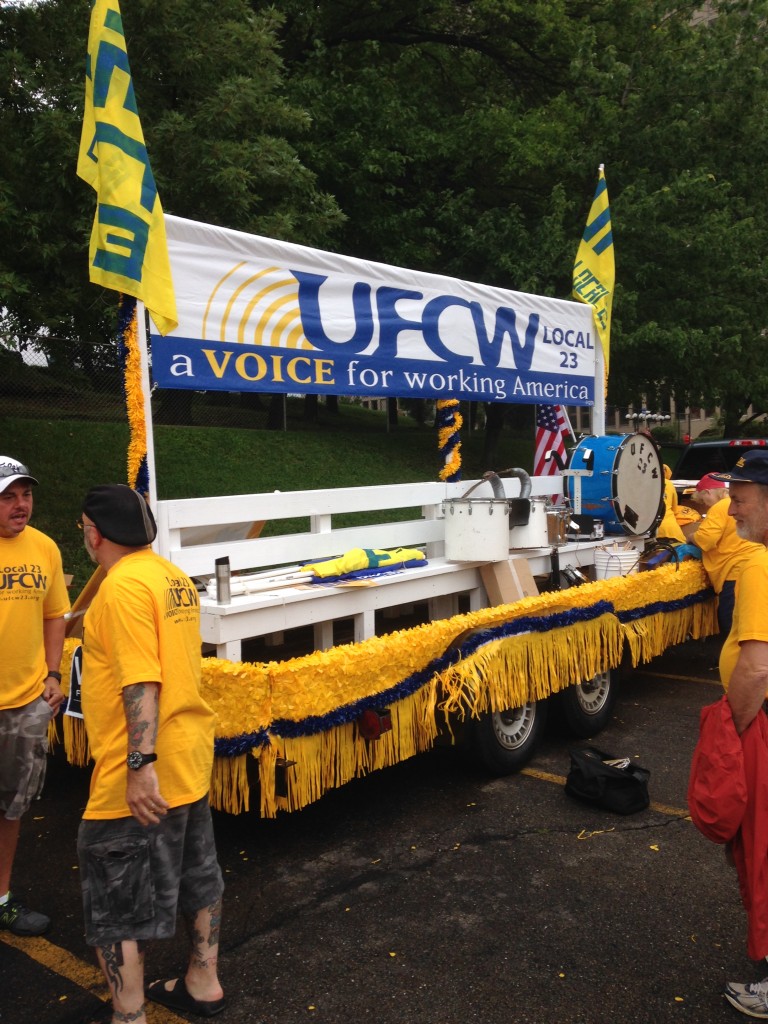 Members whose legs are ruined from many years working on cement shop floors had been asking for a float for a long time, and it was a fellow member who made it happen.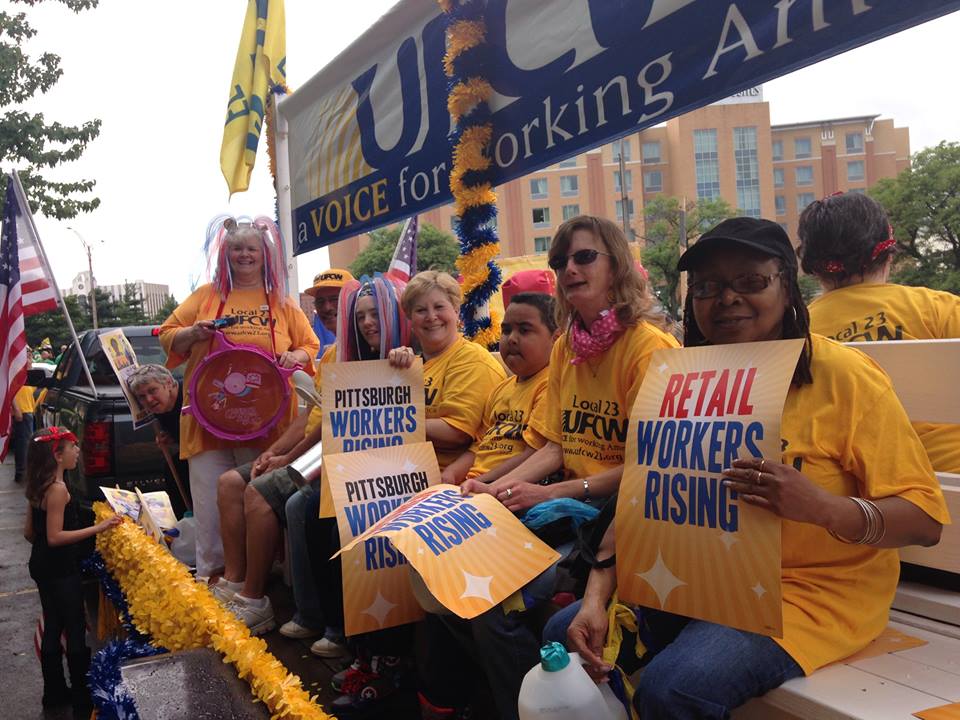 ---
 "Weapons of Mass Percussion"
The drum line came about in a couple of brains somewhat simultaneously.  Bryan Bond, Director of Representatives and a drummer, has always said that we needed a beat for our actions.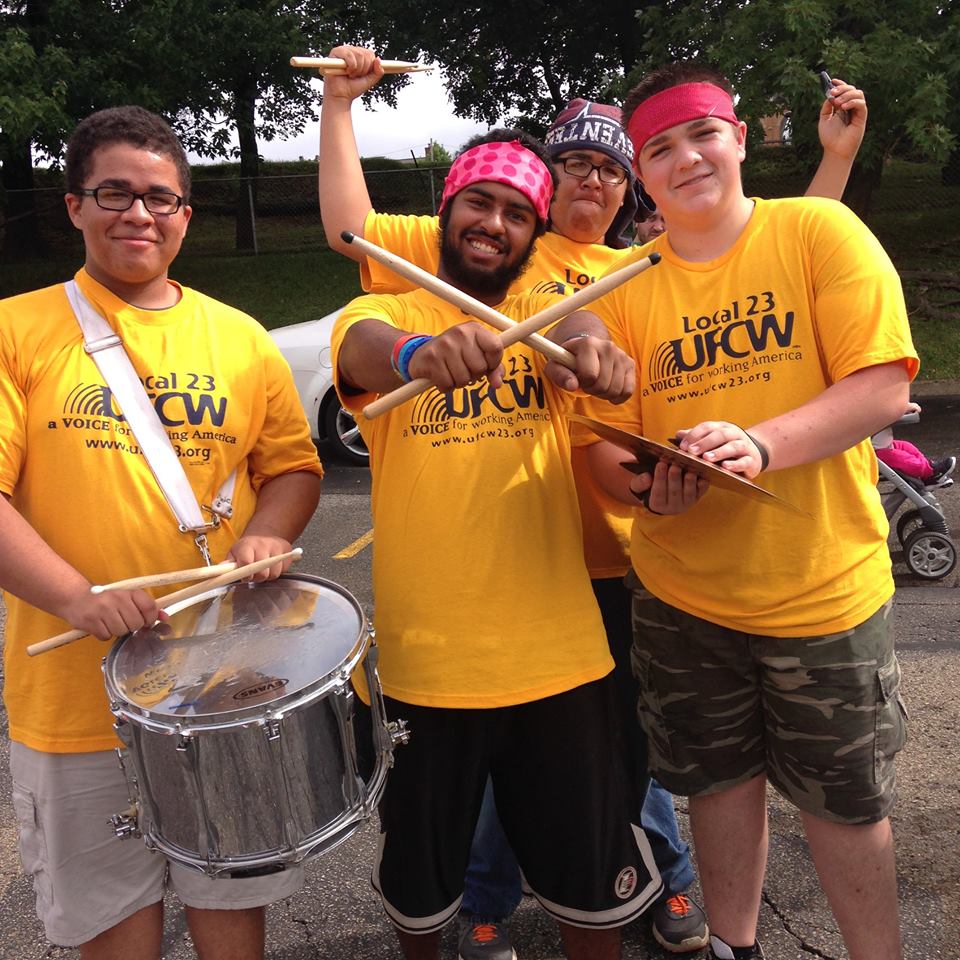 Then Tony, the President of our local, experienced drums during an action in Argentina and realized that Bryan was on to something.  Bryan got busy calling all of his former high school band drum mates and rounded up drums that were stored in barns all over Lost Creek, WV.  Most were in pretty sad shape, and we spent a weekend cleaning and repairing for a big event on March 3, 2014.
Through Facebook and other outlets, we rounded up drummers.  The guy who played the bass for us that day is actually the drum major at Robert Morris University and works part time at one of the stores represented by our local.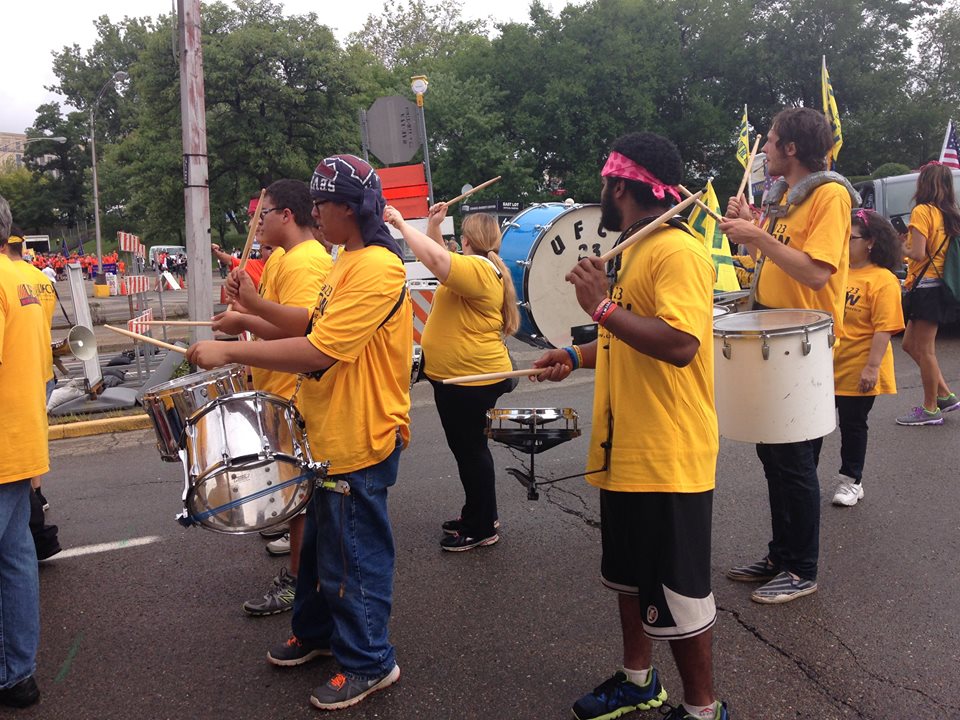 The "drum line" isn't a team of the same members all the time, as we have to deal with work, school and other schedules, but there are some who we can count on fairly often and often a surprise drummer surfaces!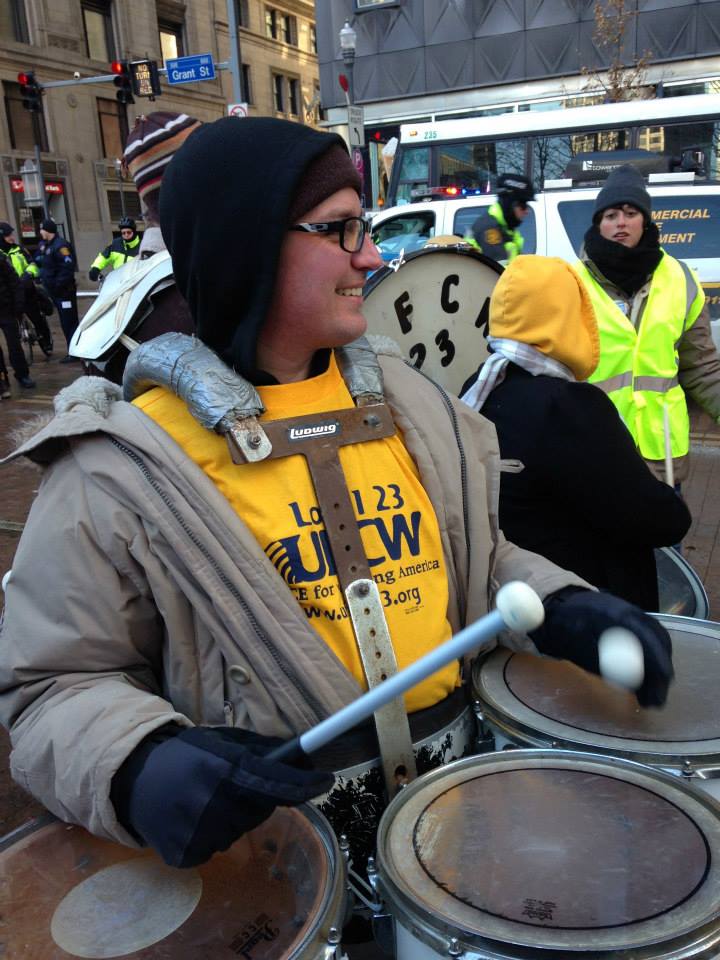 Many of the local's SPURs are called into action.  Often, who participates relates to what/where the action is.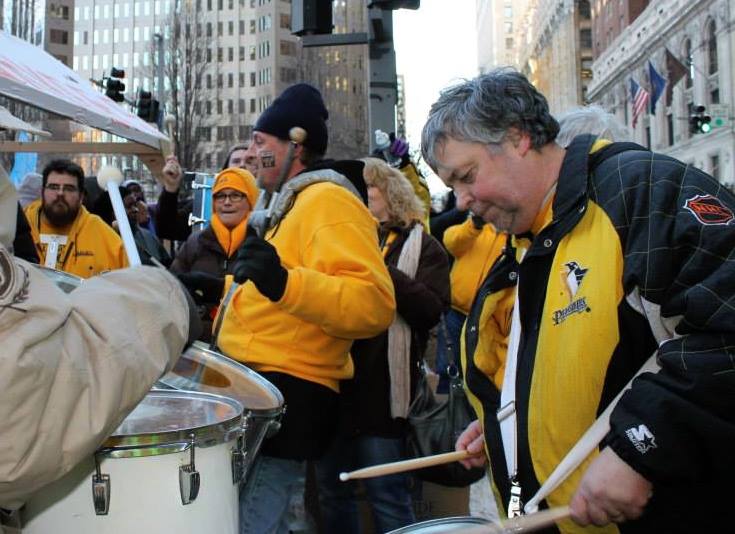 Bryan is a great drummer and coach and manages to carry whatever ragtag percussion ensemble we come up with and they always sound great.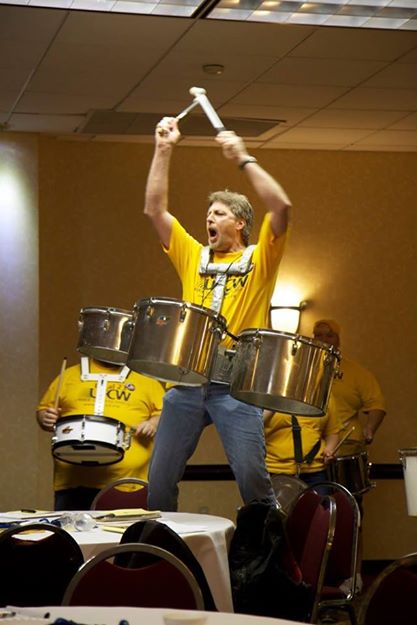 We've had probably 20 members participate on and off.  They don't have a name – we just call them our "Weapons of Mass Percussion."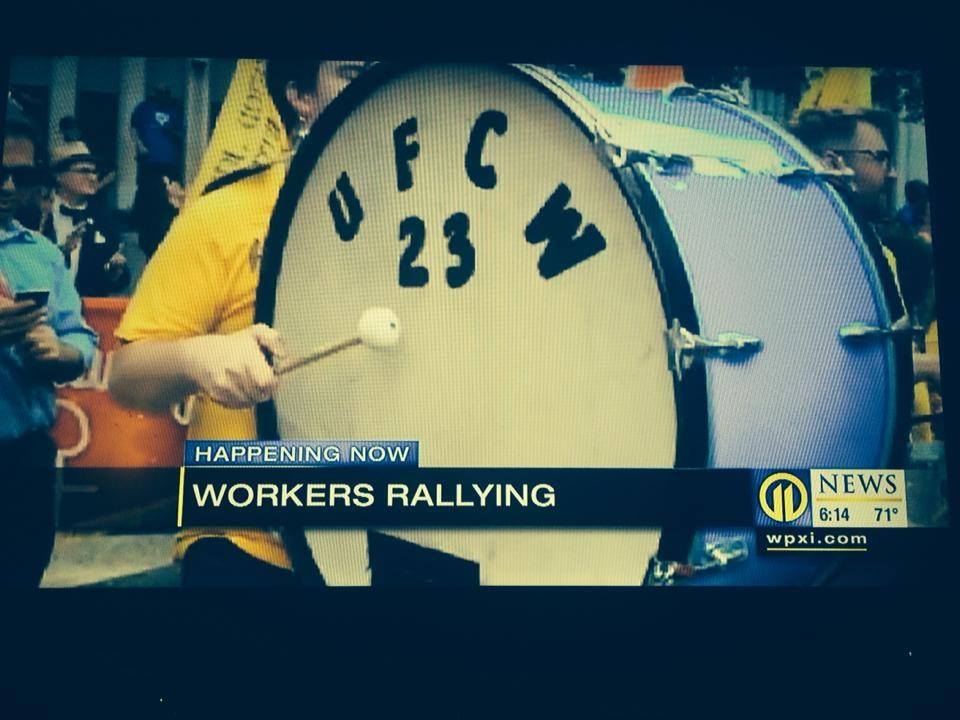 We've used drums for marches on employers, Walmart protests, public actions and events with other unions, and in the Labor Day Parade.